Gerald Brennan—composer, lyricist, pianist, singer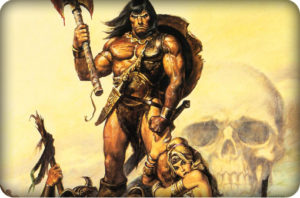 This song is subtitled "A Barbarian Romance."
Pretty much just your typical song about a barbarian warrior who goes on a quest to capture a queen and her city and make all her subjects bow to him as their new king.
He saw her once, and his tiny animal brain was set on fire by her beauty. And he wants to play with her hair. Understandable. And since he's an awesome barbarian warrior, he gets what he wants. (I mean — you wanna piece of this guy?)
It's a real swingin' dick tune. It rocks hard. I hope my producer will take this on one day with a full complement of awesome musicians and not just me and a piano.

A hundred miles from nowhere,
I dream of your beautiful hair.
So I start my journey ―
you're elusive and bold but beware:
you can't hide, I'll find you, I swear.
Through the autumn mountains,
the ice and the snow will come soon,
with my old companions,
the cold simple face of the moon,
the fabulous cries of the loon.
When I come,
the ribbons that bind your world, I'll break free.
When I come,
the people that fill your world, I foresee
that they'll all bow low,
be they friend or foe,
to behold
the majesty of our love,
then they'll know:
their whole world will change on that day,
when I come to take you away.
Now the search is over:
the Queen at the top of the stair.
You are as I remember,
the beautiful things that you wear.
No woman alive can compare.
Now they'll all bow low,
be they friend or foe,
to behold
the majesty of our love,
then they'll know:
I lie where no other men dare,
make love in your dangerous lair,
and play with your beautiful hair…