Gerald Brennan—composer, lyricist, pianist, singer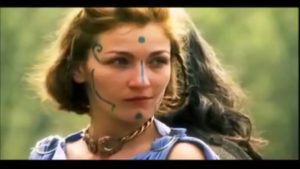 This song I wrote as part of my stage musical Penelope. Penelope is in bed with Euell, and he is reading a book of poetry by Yeats. Penny believes that his attentions are mis-allocated. He goes on about what an amazing woman Queen Maeve must have been, which is not what a woman lying naked in bed next to a man really feels like hearing about. He makes up for it by singing her a song about the ancient Queen, and in the last verse, comparing Maeve's virtues to Penny's. She come out on top. All is forgiven.

Maeve, the great queen,
was pacing to and fro, in her high house
at Cruachan;
O unquiet heart…
In her young age
she had been beautiful in that old way
that's all but gone;
for the proud heart is gone.
She could have called over the rim of the world
whatever woman's lover had hit her fancy,
and yet had been great-bodied and great-limbed,
fashioned to be the mother of strong children.
And she'd had lucky eyes and high heart,
and wisdom that caught fire like the dried flax,
and made her beautiful and fierce,
sudden and laughing.
For you, tho' you've not her wandering heart,
have all that greatness, and not hers alone.
For there is no high story about great queens
in any ancient book
but tells of you.

–lyric from The Old Age of Queen Maeve by W. B. Yeats