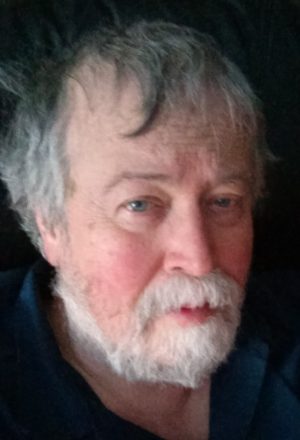 About Gerald Brennan, author, composer, recording artist
I was born on September 2, 1953, in Jessup, PA. At age two I moved to Dearborn, MI, where I lived with my family until my late teens. The eldest of six children, I went to Catholic school, and when my brain started working at about age 15, I left the Church, appalled by its many odd dogmas, especially the Church's Index, which presumed to tell its faithful what books one may not read, and what films one may not view. It didn't help much that so many of our priests and nuns were mean-spirited and sadistic (in their defense, we were simply spectacularly "negatively blessed" in that way, other parishes fared better). When we had deep philosophical questions, the answer was usually along the lines of "Shut up." It was in high school that I began to write down the music in my head.
Wandering in the desert for many years after, I drank spectacular amounts of wine and liquor, experimented with drugs, and studied the arts, science and philosophy on my own. Though I have avoided any formal music education, living in Ann Arbor put many wonderful resources at my disposal, including many fine Steinway grands sprinkled merrily throughout the campus back in the day when there didn't need to be a lock on every door.
I became a good pianist in the following years, as well as composer. I had many musical adventures – breaking a Steinway grand playing Liszt at the University of Michigan music school, playing Liszt's American Steinway at the Smithsonian Museum in an impromptu recital that drew quite a wondrous crowd. I improvised madly (after all, this was Liszt's piano), and the crone that ran the joint nearly had a stroke as she screamed at me to STOP STOP!!! STOP!!! and I was summarily ejected from the premises by armed guards. That was a real nice piano, incidentally. I may go on to fill a book with like tales, but not here.
I became a National Public Radio affiliate producer with WUOM, WVGR and WFUM out of the U-M. I produced hundreds of weekly programs in my decade there—including The Musical Theatre, New Music, New Releases, From the Monophonic Era, Music of Our World, Excursions and Nocturne. One of many highlights of my career as broadcaster included a carefully-engineered presentation of all nine symphonies of Beethoven, played simultaneously. It took two assistants, five turntables, four CD players, a few stop¬watches and multiple attempts to get all that onto tape the way I envisioned it. The night it was premiered some listeners called the cops, who stormed the studios looking for classical music felons. There were many dozens of phone calls. Half the callers thought I was the coolest DJ ever; the other half wanted me dead, as soon as possible, and as painfully as that could be accomplished. Now that's good radio.
In 1980 I organized the Ann Arbor-based Sinewave Studios for the development and propagation of new art music. During that time, Sinewave Studios and its off-shoot Twice Festivals was one of the Midwest's leading new music forces. I produced about 20 concerts and conducted the North American premier of Karlheinz Stockhausen's Für kommende Zeiten at the Detroit Institute of Art. I never asked Stockhausen's permission to do so and never paid him any royalties. I feel bad about that now that I am a creator who likes his own royalty money, but at the time it never occurred to me to pay him. Never entered my head. You know when it did enter my head? Years later when I was talking to him! I considered, for the first time, as the words were coming out of my mouth, that I had never asked permission to do the premiere and never gave him a nickel. To his credit, he let it pass. Now this was an often very rude and contemptuous man, Stockhausen was, and he just… let it go.
The writing part of my career started in 1984 when I wrote and self-published a booklet on starting a classical record collection. Borders Books agreed to carry it, and it finally made its way into the paws of a publisher from a place called and Books. The publisher asked me to expand it into a sure enough book and thus was born Classical Records, Starting Your Collection. After it was published I took it to the Ann Arbor News and asked them if they needed a music reviewer. Turned out they did, and so, all while I had the radio gig I was reviewing the best acts in the world that came through town. It got old, though, and when the music producers all lost our jobs I also quit reviewing. I found it to be spiritually corrosive to have to say negative things about other people's performances. That said, it did help feed me, my wife and my two kids.
Before all that I worked in record stores, including the famous Liberty Music and SKR Classical. I also sold pianos, moved pianos, sold sheet music, managed the University of Michigan's record and sheet music store, and wrote for various national music journals.
In 1998, I was headhunted by a visionary fellow named Michael Erlewine, who decided, years before, that it would be a good idea to get hold of every album in the world and put every bit of information on it into a database. Eventually the idea included taking a photo of the album and doing sound samples. They started with a core of a few music geeks and began by going through their own collections. The rest is history. The company Erlewine founded was called All Media Guide (www.allmusic.com), the world's largest repository of product data and editorial information about music.
Erlewine asked me to assume the post of Director of Content of Classical Music at All Media Guide, to create a department that would be devoted to classical music only. I jumped at it, and in four years my amazing staff and I, along with scores of excellent writers, amassed the data, created the classical website, and produced the giant reference book, AMG Guide to Classical Music, which I edited and saw published in 2005. My mission was accomplished; my staff was a well-oiled machine and easily the best and happiest of all AMG's departments. Then "investor fatigue" set in among the shareholders and AMG was appointed a slick new president who knew little about what we did or why, but was hired to sell the company at a good price to whomever. He despised me and my open resistance to his schemes and I was fired. I had no hard feelings. I had completed my mission and it was time to go.
Now I write music and books, make recordings and give the rare concert.
Books include Prince of Pines, a dystopian male-adventure novel set in Michigan's Upper Peninsula; Eight Short Stories; and the most recent Jophiel, a rare fantasy novel about the classical music world and an Angel sent to Earth to help rejuvenate the dying Arts.
Musically, I've to-date got 80 songs published in three SongBooks, many chamber and orchestral pieces, piano works, a full-length Broadway-style musical called Penelope, choral works, and a large orchestral piece known as Sinfonia Matrix, which requires some 80-octillion years to be heard in its entirety. Therefore, performance versions are extracted depending upon available forces, duration required and occasion.
Available CDs include Mythos (piano pieces based upon Greek myth characters, recorded in recital and in studio), Five Fantasy Nocturnes for piano, Campfire—The Burning Psaltery (a phantasmagorical piece for an innocent 12-string psaltery), Seven Solo Songs from Penelope, and three CDs from the SongBooks recorded in both studio and at home with me and my piano.
Not-actually-available is a CD of Beethoven's Nine Symphonies Played Simultaneously. This is a digital recreation of the earlier radio project, this time featuring John Eliot Gardiner conducting all nine at once in a carefully tailored orgy of magnificent aural splendor. Like nothing you ever heard or will hear again. Because you won't. Why not available for sale? Because it is also the most magnificent copyright violation of all time—9 in the space of 1. Plus I don't fancy ending up in Classical Music Prison. I'm a good-lookin' old guy and there's some mean hombres in there, especially the violists.
All the other product detailed above are published by DreamStreet Press and available on Amazon, or through DreamStreetPress.com.