Gerald Brennan—composer, lyricist, pianist, singer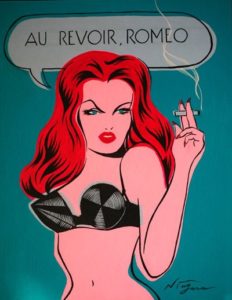 He's the Dumper, not the Dumpee! This is NOT supposed to happen.
The thirteen girls he dumped were obviously unsuitable and they had it coming. Who did they think they were, anyway? Did they think guys as cool as he is grow on trees?
All he wants is Perfect Love. Is that too much to ask? But these girls had issues, every single one of them. Everybody knows that.
And he finally found her. The Perfect Girl. The search is over! Does she even know how incredibly lucky she is?
Umm… No.

Bye baby goodbye
Bye baby goodbye
Magdalena got way too high.
Then Joanna she made me cry.
Angelina was way too nice.
Blond Betty was cold as ice.
Poor Samantha was just too sad.
Grace loved me but she was bad.
Mary she got me hot down there.
But Mary she just don't care.
She don't care!
Bye baby goodbye
Bye baby goodbye
Olivia had no brain.
Alexandra was just insane.
Liz she made a fool of me.
(I'll get back at her someday soon, and you'll see!)
Adrianna she talked too much.
Kristina said look don't touch.
I hear that Abigail wants me dead.
Was it something I did or said?
I don't care!
Bye baby goodbye
I want love,
And I finally found that
Perfect girl.
You make the starlight shine through the clouds at night.
Perfect love.
That's all I was searching for.
Other girls,
I gave them all a chance till they made me say,
Bye baby goodbye
The only girl that I want is you.
You know I love you and I'll be true.
But now I'm lost and my dreams are dead,
Because you murdered my heart last night
When you said,
Bye baby goodbye
Bye baby goodbye.